Get T-304 Stainless Auto, Diesel Exhaust Tips Fast
Customizing a ride calls for a lot of attention to small details. When it's time to get the job done right on your car or truck, Assured Automotive is here to assist. We offer a full line of T304 stainless steel exhaust tips for auto and trucks. Available in hand polished, chrome and black powder coated.

When you shop Assured Automotive, you will discover we not only have the right parts to customize your vehicle, but also the right experience to back up our promise of quality. We have been in the business since 1991 and have dedicated ourselves to becoming your source for stainless exhaust tip designs, catalytic converters, air horns and more. No matter what your parts needs happen to be the staff at Assured Automotive is here to lend their knowledge to make your purchase even better.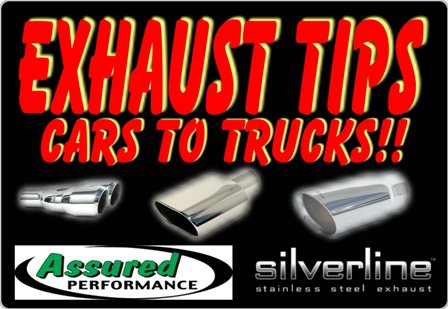 Although Assured specializes in a huge selection of parts for cars, trucks, SUVs and more, delivering high quality muffler exhaust tip designs is a big part of what we do. Our product line includes:
Exhaust tip models for cars -   It doesn't matter what kind of car you drive, chances are we have the right exhaust tip to make it look even better. At Assured Automotive, it's our promise to you that the stainless chrome exhaust tips you find on our web site are ready to ship in our stock. Should you be unsure what kind of tip you need, our professional sales staff can help. Every stainless exhaust tip in our inventory is made from 100 percent T-304 Stainless Steel. This is the highest grade of stainless going, which means you won't have to worry about rusting down the road. Our selection includes a wide range of styles, including oval, round and rectangle outlets with inlet sizes of 2.25" to 3"ID. We also have T-304 reducers to speed up the installation process and remove any hassle.
Exhaust tips for trucks – Our inventory includes diesel exhaust tips, stainless exhaust tip designs for standard trucks and even those designed just right for huge monster trucks. If you really want a big exhaust tip, our "Big Daddy" stainless is sure to please. This has a 6" outlet and is available with 3.6", 4" and 5"ID inlets.
Order from Assured Automotive and you'll discover what customer service is suppose to be. Every exhaust tip you see on our web site is available in our inventory, which means shipping can take place right away. In fact, the majority of our orders ship in less than a business day.

When it comes to pricing, you can also count on Assured Automotive to deliver. We offer the lowest wholesale pricing available not only to stand out among the competition, but also to help you keep your budget in check.
If you're ready to customize your vehicle with a new exhaust tip look, you couldn't have come to a better place At Assured Automotive, we're here to make your job easier. Just place your order directly through our secured web site or contact us directly at (800) 259-8627. If you're an international customer, you can reach us at (602) 617-5331. We're here to help make your experience with Assured Automotive even better!
We accept all Major Credit Cards.

Our phone hours: 8:00am-5:30pm PAC Monday-Friday.
Enjoy your shopping experience at AssuredAutomotiveCompany.com
Copyright (c) 2018 Assured Automotive Company. All rights reserved.