Let Your Presence Be Known With Our Air Horn Kits
If you're tired of the wimpy horns equipped in today's cars and trucks, it's simply not safe to rely on OE horns.

To announce your presence, you're in the right place. Assured Automotive has the air horns you need to customize the sound of your vehicle for the better. We offer standard air horn designs, truck horns, train horn kits and more. Basically, if it has a motor and runs, we've got a horn you can upgrade to.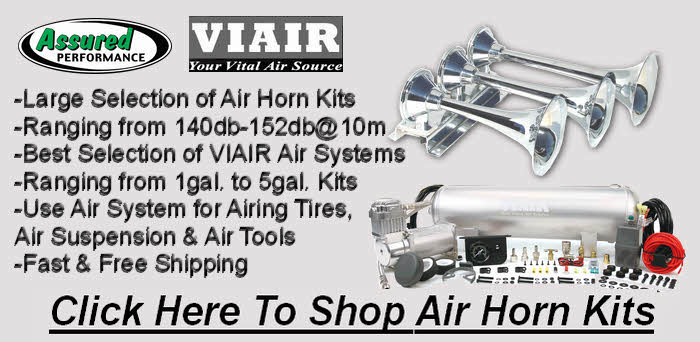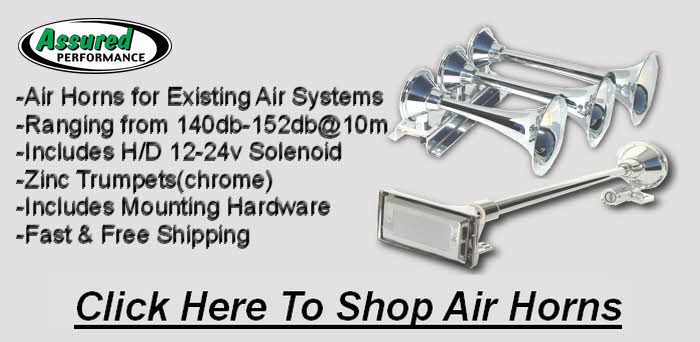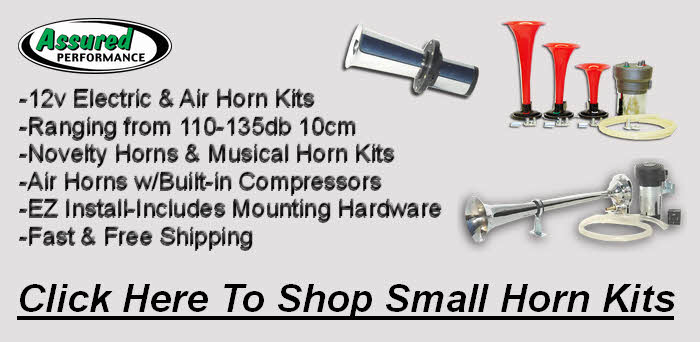 Assured Automotive brings experience to every single sale we make. We've been in business since 1991 and are always here to help you with your selection. Our friendly, knowledgeable staff members can answer any questions you might have about any item in our inventory. From train horn models to muffler exhaust tip designs, what you see on our web site is in our inventory. This means we can ship it right to your door without delay. In fact, most orders ship in less than a single business day.
It doesn't matter whether you're looking for a train horn, want something musical for your car or just need a loud air horn to customize your ride, you'll find what you're after at Assured Automotive. Our air horns include:
Train horn kits – Our selection of air horns includes a variety of train-quality horns that will not fail to get attention. It doesn't matter whether you're an engineer in need of a better sounding horn or you're just in love with the sound of a train horn, our products will not fail to deliver the sound quality your after. Our train horn packages, like Viair On Board Air Systems, will enable you to shake the ground!
Truck air horns – Want to sound like a big rig? Want blow your buddies away when you pull up? Chances are you need a horn that delivers more power than the Average Joe's. If so, you're in the right place. At Assured Automotive, we offer the air horns you need to make sure others have plenty of time to get out of your way when they need to the most. Our truck air horn line includes a wide variety of products that will get the job done right, including Viair on board air systems that include compressors and tanks. We also offer a wide variety of separates.
Car air horns – We also carry a wide selection of full car air horn kits, including compressors and tanks, and separates. From our 135db plug-n-play horns to full size train horn designs that offer a whopping 152dbs of power, we've got your needs covered for standard cars, SUVs, motorcycles, golf carts and more.

If you're ready to customize your vehicle, you can count on our air horn selection to deliver just the right sound. We offer the highest quality parts at the best wholesale prices, so you can also count on saving without sacrificing performance.
If you've picked out a train horn, car horn or other part, just order conveniently right from our web site. Should you have any questions about our products, just call us at (800) 259-8627. International customers can reach us at (602) 617-5331. We're standing by to help you every weekday from 8:30 a.m. to 4:30 p.m. Pacific Time, except holidays.
We accept all Major Credit Cards.

Our phone hours: 8:00am-5:30pm PAC Monday-Friday.
Enjoy your shopping experience at AssuredAutomotiveCompany.com
Copyright (c) 2018 Assured Automotive Company. All rights reserved.