Billet Fuel Doors Add Eye Appeal To A Custom Job
Whether you're fully customizing your car or you're looking for a little way to add extra eye appeal, billet fuel doors can get the job done. Just like adding chrome muffler tips, this relatively small customization can make a big difference in helping a vehicle stand out from the pack.

At Assured Automotive, we offer a large selection of billet fuel doors for a variety of different makes and models. Our extensive product line is just right for your customization job. In addition to outwardly visible fuel doors, we also have catalytic converter models, neon car lights, car air horn kits and more.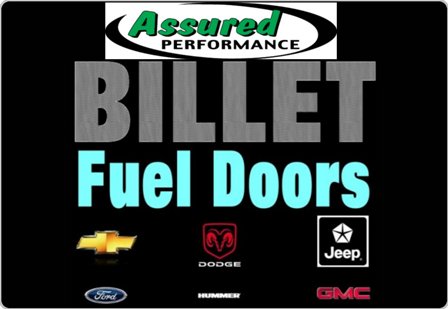 Since 1991, Assured Automotive has been offering clients access to a wide selection of parts just right for customization. We bring not only unique parts to the table, but experience you can count on. When you order billet fuel doors from us, you'll enjoy wholesale prices, always in-stock inventory and access to our experienced sales professionals. Our friendly staff is available to answer questions you may have about our parts.
When it's time to order billet fuel doors, you'll find our inventory includes:
Chevy and GMC models – We carry an extensive line of locking billet fuel doors for a variety of Chevy and GMC models. You don't have to look farther than Assured Automotive to get the doors and the look you're after.
Jeep and Dodge – Customizing these already flashy models is easy when you rely on Assured. We carry a large selection of aluminum doors to fit models put out by both Jeep and Dodge.
Hummer and Cadillac – We also have doors designed to work perfectly with Hummer and Cadillac models. Adding a little pizzazz to these masters of the road is easy when you shop at Assured Automotive.
Ford – Not to be left out, Ford is also highly represented in our customization selection. These locking billet fuel doors are right for many of the trucks in Ford's extensive line.
When it's time to customize a vehicle, it's the little touches that often make the biggest difference. From diesel exhaust tips to air horn models and beyond, we've got your bases covered. Our billet fuel doors line covers all major American makes and enables you to add a little extra shine to your ride, while enjoying the added security the locking mechanisms provide.

Order your billet fuel doors from Assured and you'll enjoy wholesale low pricing and fast shipping. In fact, we ship most orders within one business day because if it's on our site, it's in our inventory. This means you don't have to wait for the parts you need to make your vehicle stand out from the pack.
If you're ready to add billet fuel doors to your car's customization package, you've come to the right location. Just order your parts from our website or, if you prefer hands-on service, call us directly at (800) 259-8627 or internationally at (602) 617-5331. We're standing ready to assist customer weekdays from 8:30 a.m. to 4:30 p.m. Pacific Time, except for holidays.
We accept all Major Credit Cards.

Our phone hours: 8:00am-5:30pm PAC Monday-Friday.
Enjoy your shopping experience at AssuredAutomotiveCompany.com
Copyright (c) 2018 Assured Automotive Company. All rights reserved.